This post may contain affiliate links. Please see my disclosure. It helps keep the 💡 lights on around here 😉
MyPoints 2019 review on earning passive with nCraves
via GIPHY
How Does MyPoints Work?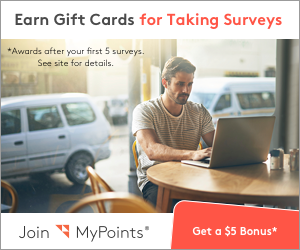 First-time users have expressed feeling overwhelmed when first registering for their free account. Don't you worry because I'm giving you all the ins-and-outs to earn points for cash in this Mypoints 2019 review and video.
In this MyPoints 2019 review, I will show you the simplest and my favorite way. PLUS I created a How-To walkthrough video showing you how to make extra money using ncrave. Keep reading and watch the video at the end.
Registration is FREE, quick and easy! To become a member you need a valid email address that you must confirm after registering. Additionally, you must be a resident of the U.S. or Canada and at least 18 years of age.
Once you Signup, you can Immediately start earning points, it's really that simple! Don't forget to look out for their promo codes and boost points they give our daily on their MyPoints Facebook page.
Can you really make money on MyPoints?
MyPoints.com rewards you for online activities such as shopping, visiting websites, printing/redeeming coupons, playing games, searching the Web, taking surveys and more!

You're paid using their own currency called "Points." Hence, why they call their company "MyPoints". Your points can be redeemed online for cash, gift cards and they now have the option to redeem for travel miles. They do require you to meet a minimum to cash out.
The quickest and most popular cash-out option is an Amazon gift card because it requires the least amount of points.
via GIPHY
Related Posts:
Make Money on Swagbucks – Sign Up Bonus Code: Review Tips for 2019
Penny Pinchers Smart Passive Income Ideas Online 2019 – Easy & Instant
MyPoints Redeeming Cash and Rewards
Use your Points to get rewards from over 75 retailers, PayPal, restaurant and travel partners. You pick the rewards you want. Gift cards are delivered via email or to your door, free of charge.
Shop online – Shop over 1,900 popular retailers through MyPoints and earn Points for your purchases.
Download Score – Get alerts + coupons for MyPoints partners with our extension so you don't miss out on shopping Points.
Local deals – Earn Points per dollar for your Groupon and LivingSocial goods and voucher purchases.
Read email – BonusMail offers great deals to earn Points, and many have 5 Points just for clicking!
Survey – Answer market research surveys and earn up to 400 Points.
Watch videos – Complete playlists to earn up to 500 Points per day while being entertained.
Search the web – Get Yahoo! search results and the chance to win up to 170 Points randomly.
Print coupons – Save money on groceries + earn Points for printing and redeeming manufacturer coupons.
Play games – Earn up to 8 Points per dollar playing popular games like Bejeweled 2 and Solitaire Rush.
Referring friends – Build a network and earn 10% of your friends' qualifying Points.
Travel – Add travel miles to your United MileagePlus account.
Daily 5 – Complete any 5 activities listed under "Daily 5 tab" and earn 5 Bonus Points!
nCrave – nCrave activities allow you to earn Points while introducing you to relevant sites and videos. (Yes, I left the BEST for last!)
MyPoints How To Tutorial Video nCraves
Ok, so enough typing of the boring details…I like to read… but I'm a visual learner myself. I made this "How-To-Tutorial" video for MyPoints.com nCraves to help you out!
---
Tip: You can cash out daily or every few days if you watch encraves DAILY!

Did you enjoy MyPoints 2019 Review walkthrough video?